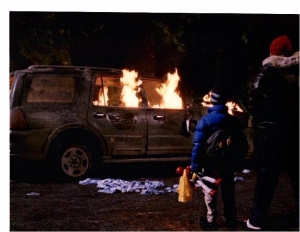 The interior of this vehicle was set on fire several times for the Movie "Are We There Yet?"
Tech Line developed a coating to protect the vehicle interior (custom fiberglass parts installed for the interior) through several fires started and put out so they could do multiple shots.
Tech Line specializes in Coatings not available elsewhere.
---
JCM Machine
Josh
House Springs, MO
Just a note to let you know we have had a lot of customers who are bringing in headers both new and used that have been coated using other companies products. Typically they are lasting as little as 1 year from one manufacturer and 2 plus years for the others. They are all having them recoated with CermaKrome since it lasts far longer.
---
New Employee
Tim Sampson is now active in our Tennessee office. He replaces Damien MaComber. Tim will be responsible for further development of: Sales, Trade Show planning, Safety and Customer Service. Tim has an extensive background in each of the areas of responsibility acquired in various fields such as; Medical, Financial Services and Human Resources and Construction. His experience will help in our development of the Industrial market, which is an expanding field for us. His family was heavily involved in the Automotive field with an excellent reputation. Tim will be at both the SEMA and PRI shows this year, so stop and say hello.